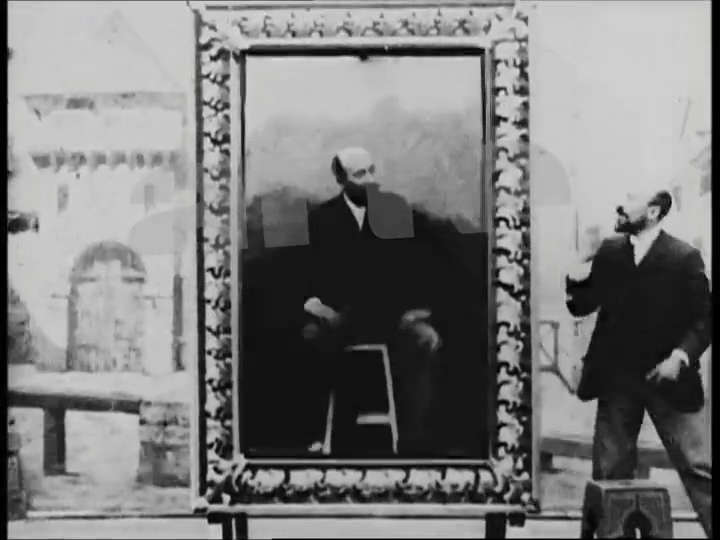 Please sign in to screen this programme
THE MYSTERIOUS - THE CHRISTMAS DREAM - A GRANDMOTHER'S STORY - THE PILLAR OF FIRE -
THE GOOD SHEPERDESS AND THE EVIL PRINCESS

THE MYSTERIOUS PORTRAIT
France 1899
An illusionist makes his double appear in a frame and converses with him before making
him disappear.

THE CHRISTMAS DREAM
France 1900
Spectacular cinematic fairyland. A child is asleep the night before Christmas and dreams
that angels bring him toys and that he attends midnight mass and has a Christmas meal.
He awakes to find the chimney overflowing with gifts. The film ends in a scenery full of
snow and ice.

A GRANDMOTHER'S STORY
France 1908
At night, a grandmother reads a story to her grandson before putting him to bed. The
child dreams of an angel who comes to bring him to the Land of Toys. After, a fairy
shows him a garden of female butterflies. Then, the little boy wakes up and stretches his
hands out towards the wall, but he does not find anything there.

THE PILLAR OF FIRE
France 1899
In a gigantic chimney, a devil sets a fire under a pan from which a dancer appears,
performs a snake dance, and makes the flames dance.

THE GOOD SHEPERDESS AND THE EVIL PRINCESS
France 1908
A prince falls in love with a shepherdess but his mother, the evil princess, thinks this is a
bad match-up. Fortunately, a fairy godmother appears to punish her by making the
princess disappear down a well, thus allowing the couple to marry in peace.